The Blanden Art Museum is located at 920 Third Avenue South, Fort Dodge, Iowa 50501. It is two blocks north of Business Route 20 - three blocks south of Central Avenue between Ninth and Tenth Streets.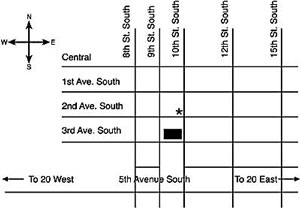 South door on Third Avenue South. East entrance also available on 10th Street South. Handicap parking and elevator entrance on west side of building off alley.
Street parking available. Free parking available after 5 P.M. and weekends at City parking lot, 10th & 2nd Avenue South.
Tuesday-Saturday: 11 AM - 5 PM
Closed Sunday and Monday & Holidays