The Fort Dodge Regional Airport offers direct jet service to Chicago O'Hare (ORD).
We are excited to have this service on United Express by SkyWest Airlines to connect you to all of United's global destinations.
What should you expect when flying from Fort Dodge? Here's a few common questions and answers.
How do I book a ticket?
To book your tickets, you can use the United app, visit www.united.com or call 1-800-864-8331.


When should I check in?
Carry-On or personal items only: 1 hour prior to departure time
Checked Luggage: 1 hour and 30 minutes prior to departure time


When does the airport open?
Airline employees will be at the counter an hour and a half prior to scheduled departure times.


Do you have the option for TSA PreCheck?
Yes we do. Haven't heard of PreCheck? Experience a smoother screening process - no need to remove shoes, belts, liquids, laptops, or light jackets. Learn more HERE.


Is there a charge for parking? What are the parking lots like?
Parking is free of charge for any duration of time.
Areas inside the yellow boxes are open for public parking.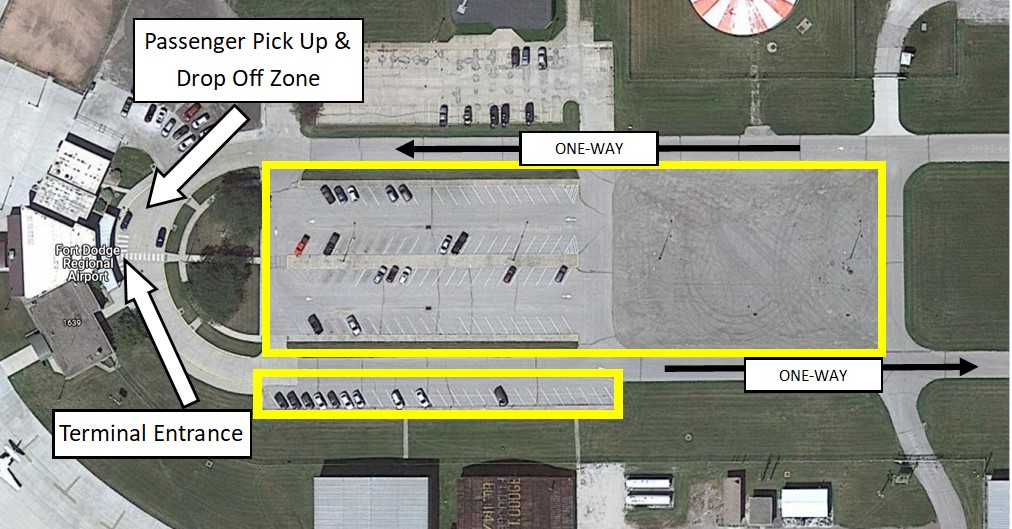 Do you have a restaurant?
While we do not have an on-site restaurant, we do have a vending area in case you need a snack or drink before your trip.


What is the terminal like?
Click HERE to view our photos on Google.



If you have any other questions not addressed on this page, please send an email to fdairport@fortdodgeiowa.org.


We truly appreciate all of you who choose to fly Fort Dodge!